Get outside and enjoying nature with my daughters isn't as easy as it was for me when I was growing up as we lived in rural Manitoba on an acreage that was fully treed in and we had a forest to explore in our back yard but living inside of Winnipeg doesn't mean you need to take a daytrip to more rural areas on the province to walk among the trees and see wildlife. There are amazing green spaces and parks with in the city limits, which include very accessible and family friendly walking/hiking trails. Now if you are coming from more BC or Alberta our flat prairie trails aren't as difficult to navigate but they are perfect for baby-wearing, strollers and little ones' feet. Below we've listed our favourite trails that we walk as a family and with the local Hike it Baby Winnipeg group but this list is not exhaustive and will be continually updated with our personal reviews and new trails as we discover them.
Did we forget somewhere that you know is great or has something changed? Simply email carmenk@macaronikid.com, and we will get it added to the list!
Never miss a family event, giveaway, parenting resource & more! Find it all in your Inbox each week via our FREE e-newsletter. Sign up by clicking HERE
*****************************************************************************************************************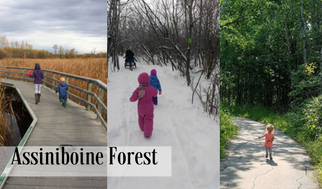 Assiniboine Forest (West End, directions) This is a great trail that offers multiple paths, the trail is wide and easy to walk with a double stroller although it isn't groomed wide in the winter so is better to bring a sleigh or baby wear so your tires don't get stuck in the snow! There are multiple deer that live in this forest among the smaller wild life so keep your eyes out for them!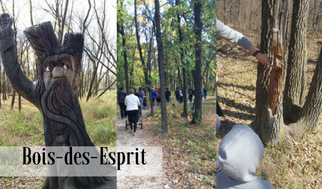 Bois-des-Esprit (South East End, directions) If you haven't made it out to this trail yet it is an absolute MUST! Local artists have carved wood spirits into trees along the trail and deep into the trail you will come to Woody the Tree Spirit which is an entire tree trunk carved as a wood spirit. The main trail is wide and easy to walk with a double stroller but if you take the trail that runs along the Seine River it is best on foot and with baby carriers. If you have a single stroller and you NEED to bring it just be prepared for rough spots and the need to lift the tires in really narrow parts. I have done it with a bumble ride joggling stroller that is pretty light but its annoying. Keep your eye out for A LOT of wild life in this park from the deer, beavers, geese and apparent owls. When we walk this path we park at the Extra Foods on St. Annes and walk across. There is also a great playground just outside of the forest that the kids like to stop at on our way back.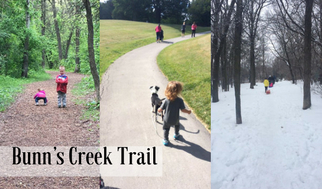 Bunn's Creek Trail (North East End, directions) As we live in the north east end of Winnipeg, this is our FAVOURITE park that we walk weekly. We park at the Centennial Park which has a great playground and shelter/warming hut that includes bathrooms & running water as there is a outdoor rink and sledding hill in the winter. The kids love stopping at the playground before we go home after our walks. This trail is well groomed and wide even in the winter. A lot of ducks in the creek that the trail follows and an elusive beaver that we've seen once but the dam is there for kids to look at. Along the trail prepare to stop while the kids explore the forested areas as ours like to play make believe house/camping weekly. After the thaw in the spring the trail does tend to flood so your walk will be shortened for a few weeks.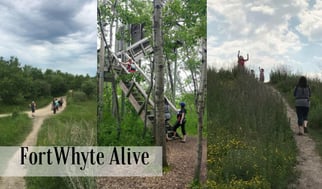 FortWhyte Alive (South West End, directions) While there is an admission to enter FortWhyte it is definitely worth it and technically if you walk to the centre instead of driving admission is free. The self guided trails are well groomed and wide, as well as varied. You have the option to take self guided tours or rent/bring your own snow shoes/skis in the winter to take on the trail. They have a boardwalk where the kids can stop and use dip nets to explore water critters before continuing on the trail. Lots of deer, bison, prairie dogs and other wildlife to watch on the trails and once we saw a garter snake crossing the trail with a frog in its mouth!!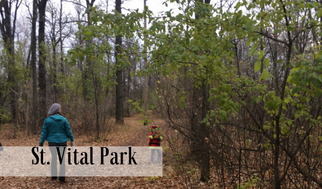 St. Vital Park Trails (South End, directions) Another beautifully forested trail to explore. We haven't explored the trails of this one as much as the others but used the park for a Pumpkin Hunt in 2016 which was a huge hit. They have a great playground and access to bathrooms beside the picnic shelters and in the duck pond shelter so great for little ones. A lot of geese hang out at this one because of the pond and river close by.
Just outside the city limits: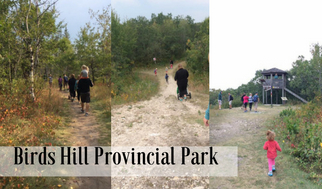 Birds Hill Provincial Park (North East of Winnipeg, directions)
Bur Oak Trail - watch our video of the trail HERE
Prairie Winds Trail (aka White Tailed Deer) - watch our video of the trail HERE
Chickadee Trail - watch our video of the trail HERE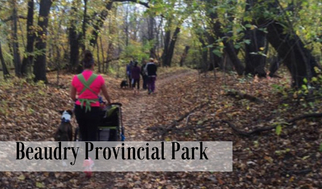 Beaudry Provincial Park (West of Winnipeg, directions)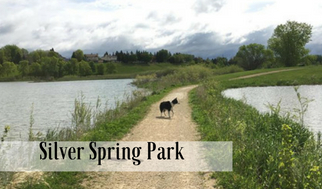 Silver Springs Trail (North East of Winnipeg, directions)


*If you are looking for details on different trails inside the city including their distance and maps check out http://www.winnipegtrails.ca/