The girls and I have been heading out in the evenings over the last week to check out houses around Winnipeg that have gone ALL OUT for the holiday season. There are so many amazing light displays and decorations and below you can find links to interactive maps made by other Winnipeggers to locate ones that are close to you but I thought we would give you a list of our 5 MUST STOP places in Winnipeg for Holiday lights.
Also don't forget to download out I Spy Christmas light Bingo Cards!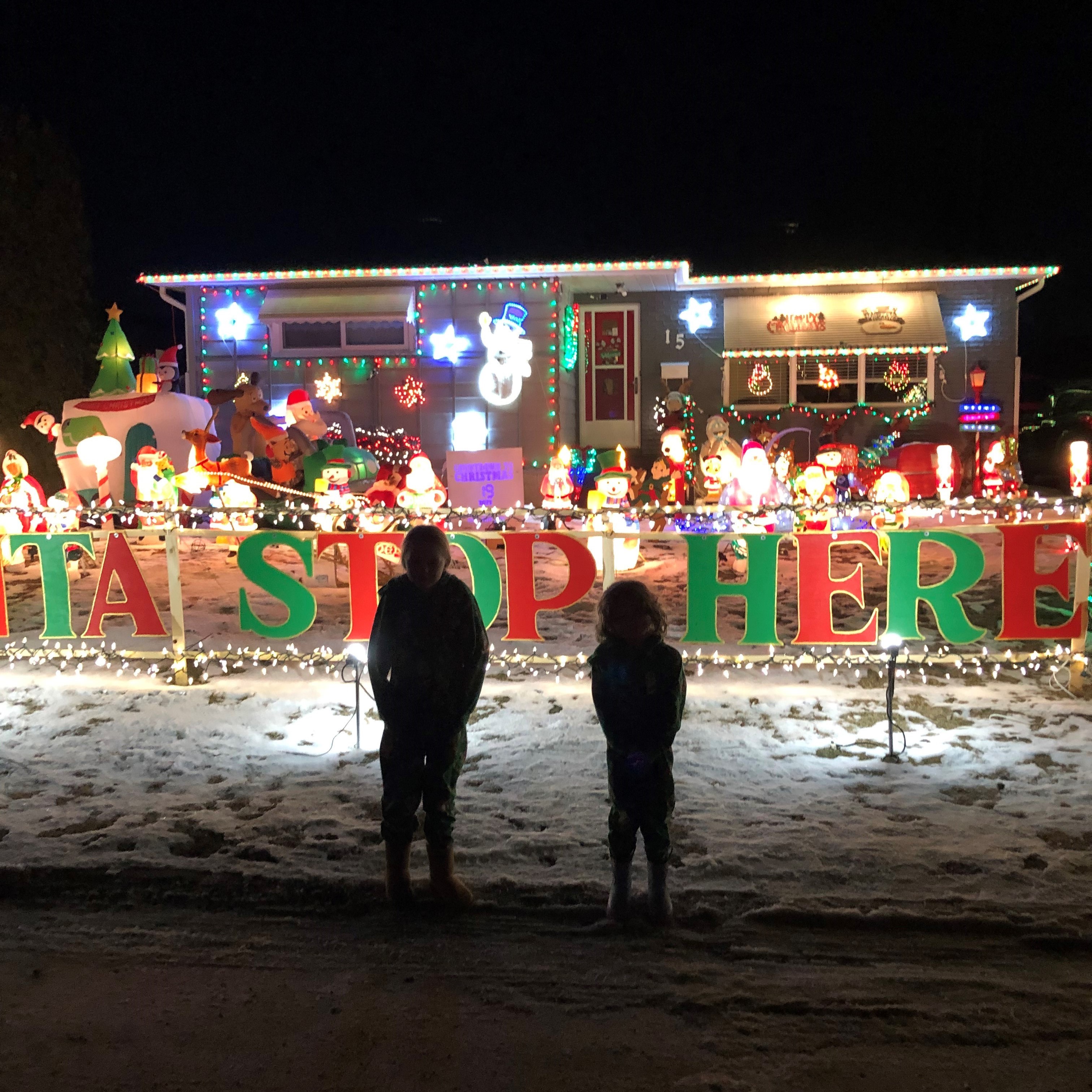 1. 15 Humber Rd has a great display in Windsor Park. This was one of the first ones we drove by and the girls got out to look at all the details. This one is on a quieter street and we got to view it all by ourselves (the other ones we are listing can have a lot of people lined up on weekends and at least 1-2 other families in front of you on the week days)
---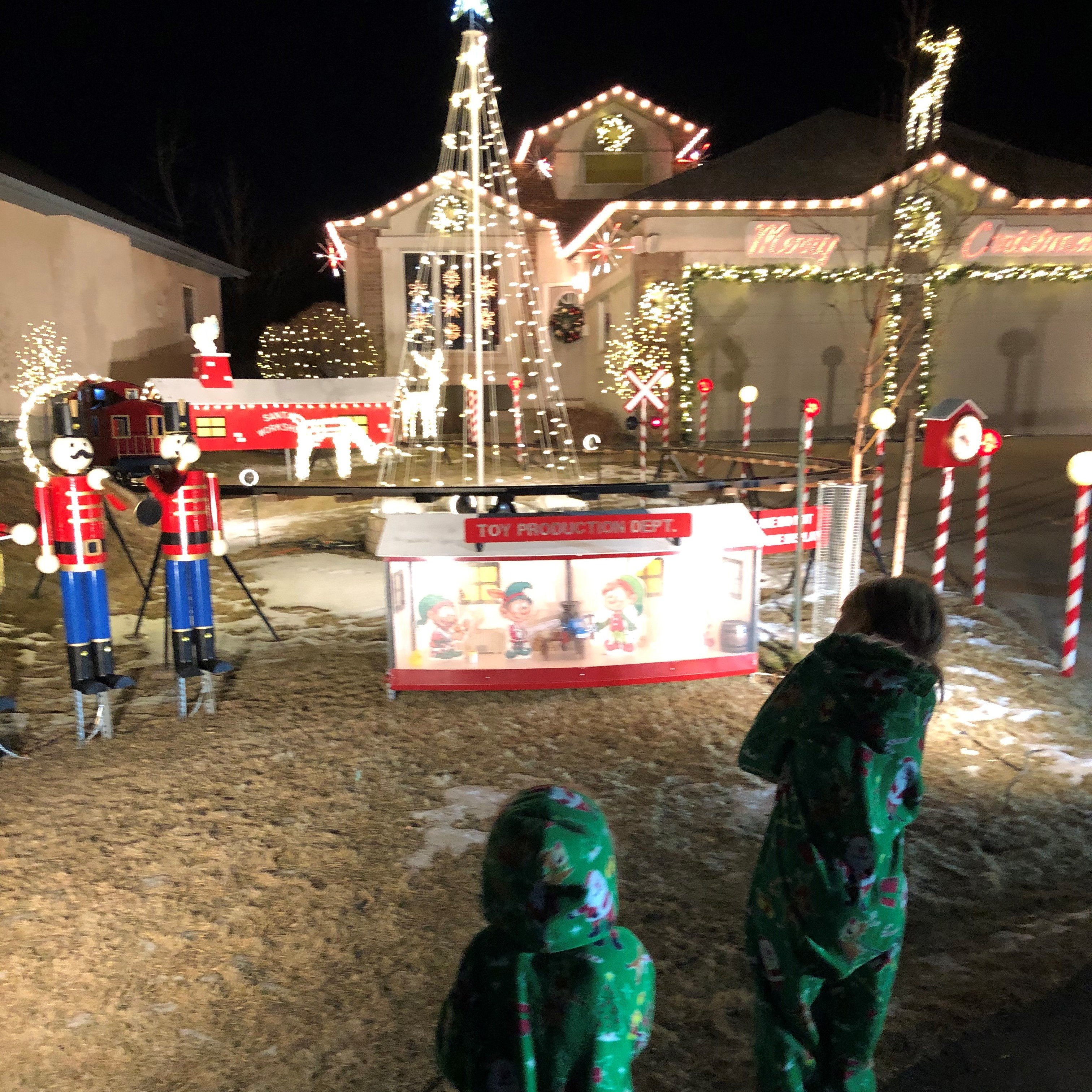 2. 569 Island Shore Blvd display is a MUST STOP for all the little train lovers in your home. This house has a working large toy train that loops a track, as well as toy soldiers and elves in a toy shop that move.
---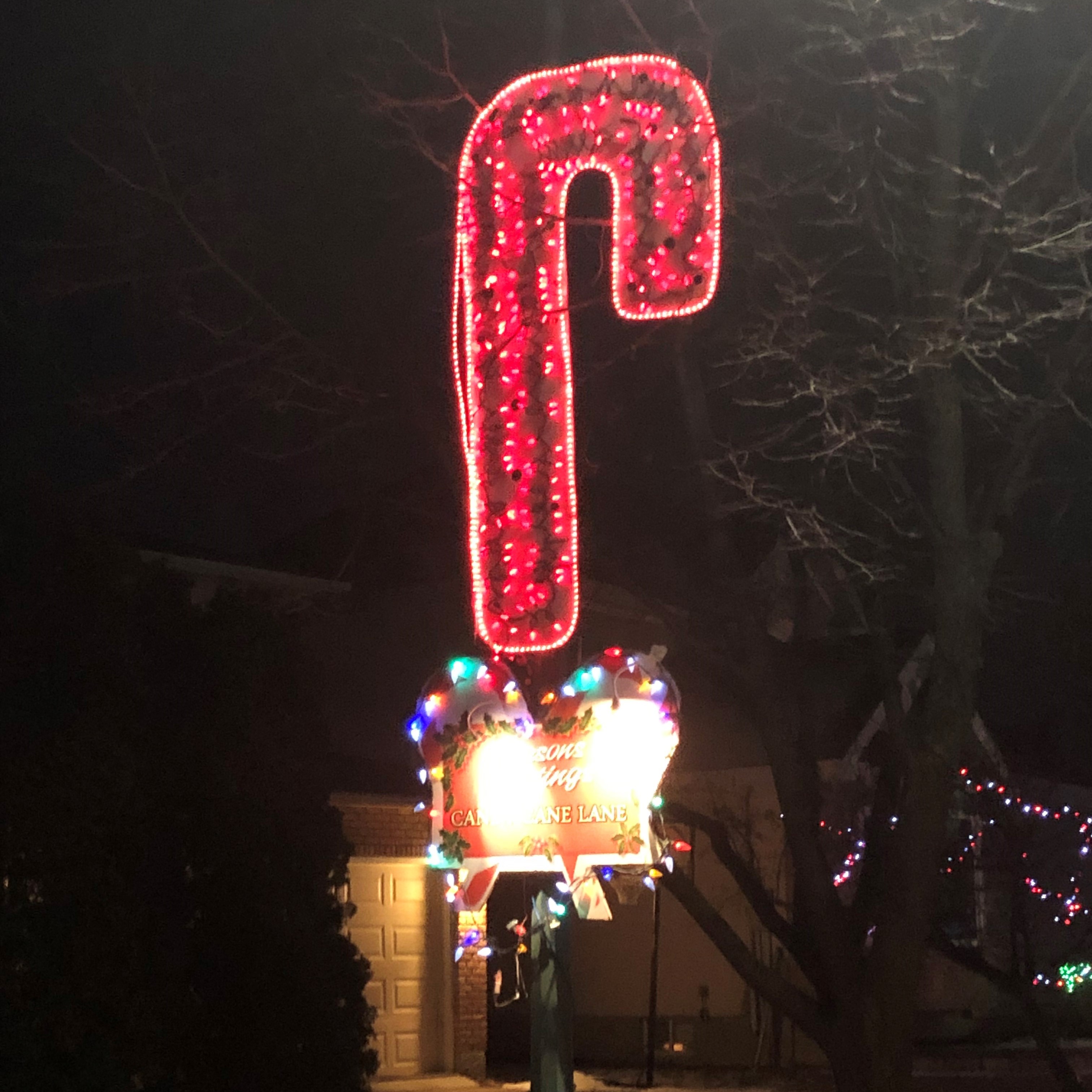 3. Lindenwood Dr: Candy Cane Lane, Polar Bear Lane, Nutcracker St, Reindeer Rd & Penguin Parkway This area of the city has a tradition of going all out for the holidays. Multiple streets/drives/blvds along the loop of Lindewood Dr have themes that the houses decorate based on. You can find them on both maps that I link to below but heres a quick route we took to tour them. Note that there are NO sidewalks and these streets get busy on the weekend of people driving both ways to see the lights so I wouldn't recommend walking the whole things. Plus its a LONG walk if you do the entire loop. Also on Shorecrest Dr (right after the Polar Bear Lane) make sure you drive down it as this is the street that has the 'Ditto' house beside the house that went all out!
---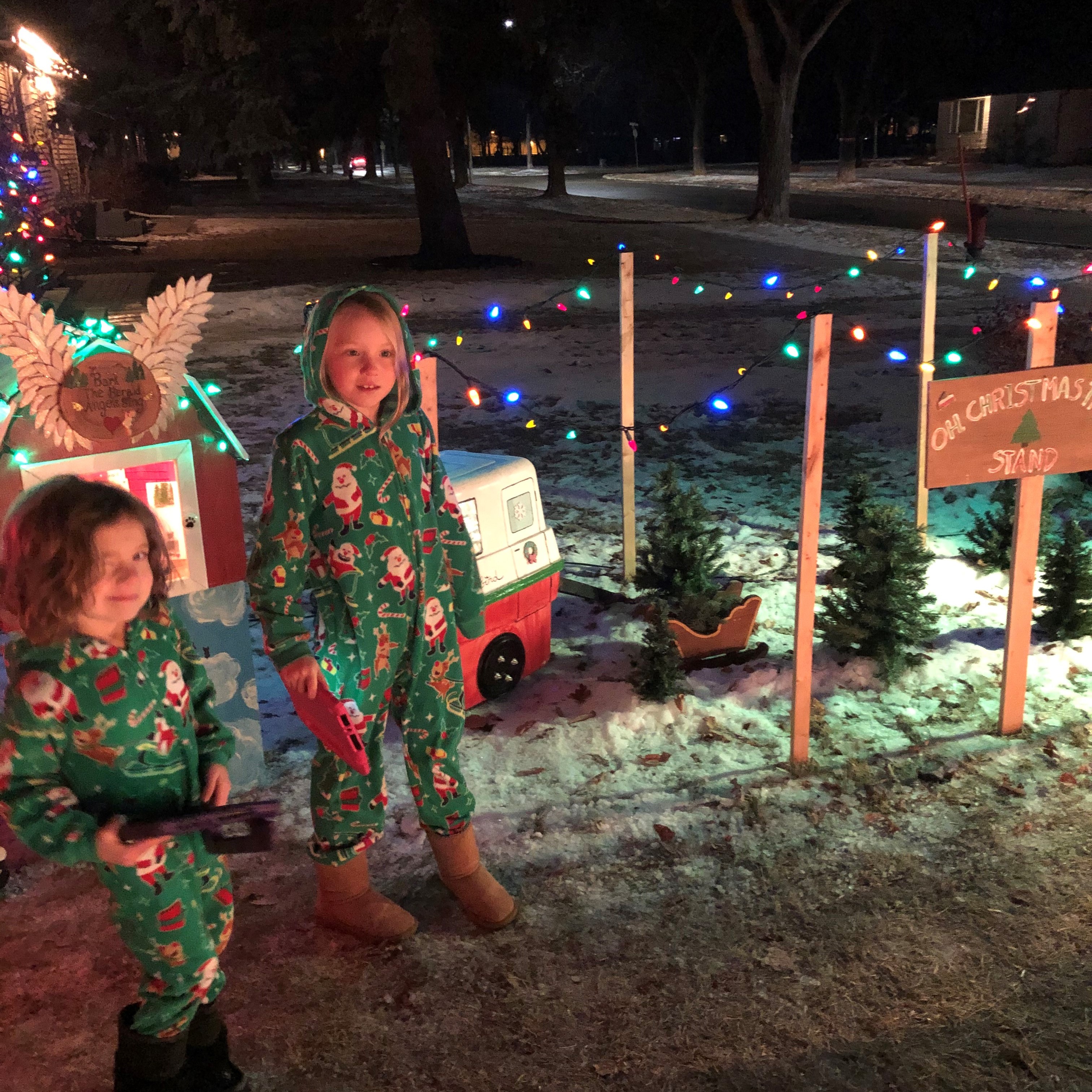 4. The Elf Village on Lockwood St This River Heights home was my girls absolute FAVOURITE. Respecting the fact this is private property, the home owner is generously allowing people to walk along a path to view each of the elf homes and businesses set up in their village. My picture doesn't do it justice! I took more video then photos at this one. Each structure is lit up and in side is miniature furniture, food, and accessories based on the theme of the business. They have a church, christmas tree lot, a 'slim and trim' which is a gym on the top and barber shop on the bottom, a bake shop, post office and so much more. Definitely worth the stop. We went on a week night and didn't have to worry about crowds. There was 2 families before us, 1 on the other side of the yard when we were looking and 2 more families arriving as we left.
---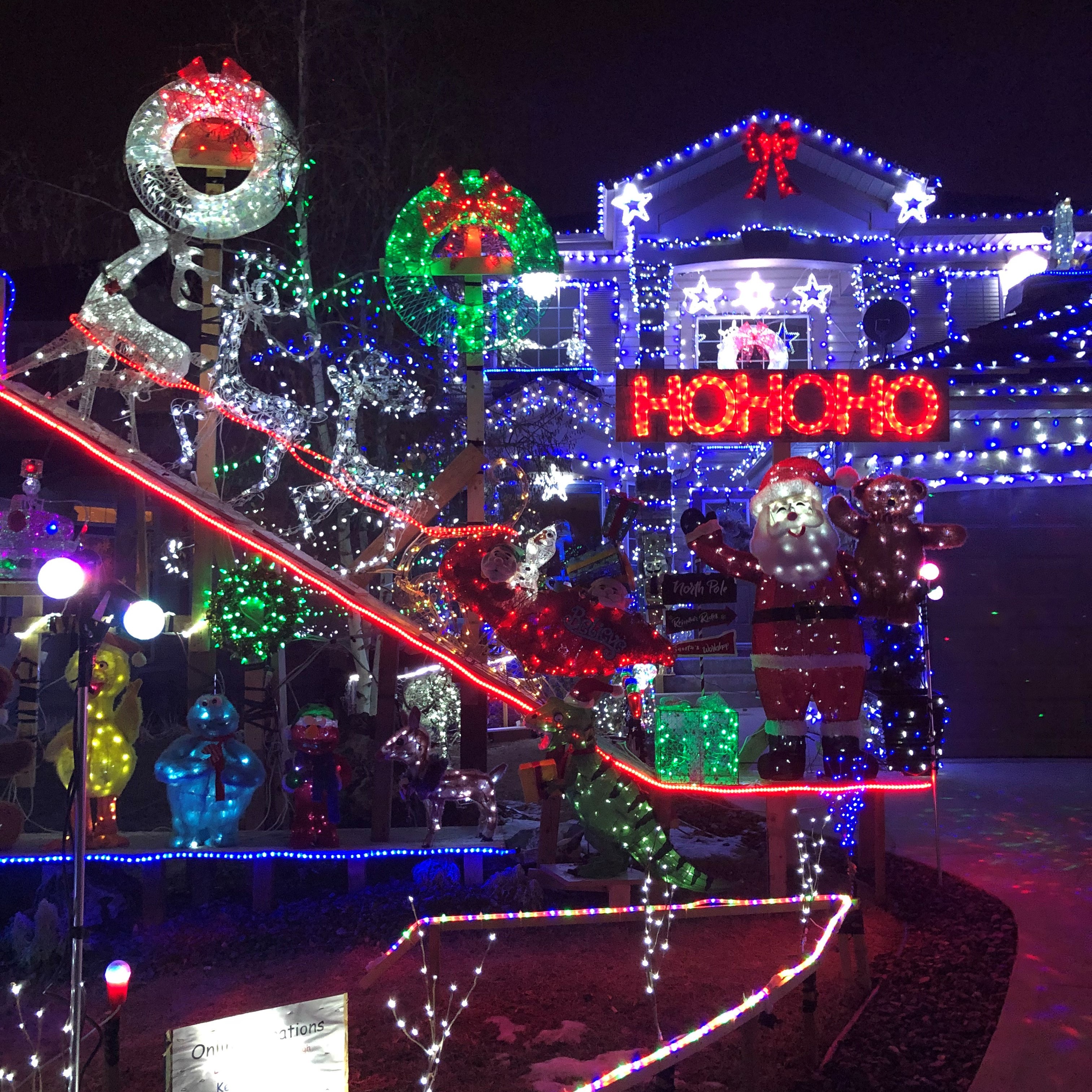 5. Ken's Lights of Hope is a house that decorates for Charity every year on 275 Aldgate Road. This one has so MANY details. all of the decorations light up and the kids spent quite awhile finding everything. They even have a dinosaur trying to sneak off with a gift by Santa. Remember to bring a donation to drop off at this one.
What has your favourite lights been so far? Are there some other MUST STOPS?
Global News Winnipeg has created a map of the Holiday Lights around Winnipeg and you can access it here where they have an article and interactive map, which directions of submitting your homes.
Additionally, Carol Cassell, who created the Halloween Decorated House Map in October, has put together one for Christmas lights now. See below for the full map to plan your viewing route this week. People can submit their houses to be on the map on the facebook group or email her at mappingwinnipeg@gmail.com.
Check out Carol's map below or view it in your browser by CLICKING HERE!