New Year's Eve celebrations with kids can be a lot of fun. For us, the goal is in the traditions we get to enjoy and make memories with our family. Creating fun activities and memories don't have to cost a lot of money either. We've rounded up some great ideas you can use to on the 31st to celebrate with your family at home.
Pro Tip: Want to celebrate the countdown earlier in the day? Look to YouTube or Netflix for New Year's Countdowns. Also there are usually some events around the city that do fireworks earlier in the evening. Check our CALENDAR for them.
1. Ask Your Kids: What Was Important to Them in 2020? Our free printable makes it easy to create this family keepsake
2. Get Crafty: DIY Confetti Poppers - These are a simple craft you can do with a few things around the house. The kids can use them when you count down at midnight (or when ever you decide to say HAPPY NEW YEAR with them). Pro Tip: Don't want to be picking up confetti for the next few months? Use pompoms instead!
3. Make some fun (alcohol free) drinks that the kids can toast with. Grab some plastic champagne or wine glasses from a dollar store and pour them something that's bubbly like Sparkling Apple/Grape Juice or Sprite/7up and then throw in some gummy bears to make it fun. You can also opt for something like Milk and Cookies. Basically anything in a champagne glass is going to be fun for the kids.
4. Set Goals Together With Help From a Family Vision Board - The whole family has goals. How can you help your family achieve those goals? Try a family vision board! Involving the whole family in the creation of a vision board is a fun kid-friendly project that can benefit your family all year long.
5. Fill a pinata with Hershey's Kisses that the kids can break open after you all say "Happy New Year" for a fun way to have some MIDNIGHT KISSES with their friends.
6. Make a Memory Box Time Capsule for 2020. We printed some of our favourite photos from the year and used modge podge to decorate a box. Inside of it you can put the momentos you collected over the year as well as the memories you put into your Memory Jar that you started at the beginning of the year. This is also a great place to store the Interview Questions you completed above.
7. Create a DIY Balloon Drop to release after your countdown. We did ours by cutting a plastic table cloth in half and taping it back together with painters tape. We then pinned it to the ceiling with tacks, filled it with balloons and pulled the painters tape away when we said Happy New Year. You can find a lot of options on our Pinterest Board: DIY Balloon Drop
8. Grab a disc ball, glow sticks, a strobe light or all of three, turn on some music and have a DANCE PARTY with the kids to celebrate.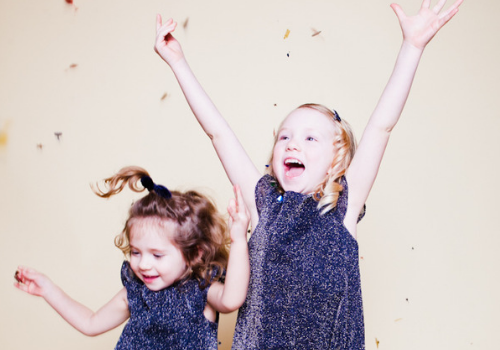 Macaroni Kid Winnipeg is a free weekly newsletter and website focused on fun family events and information in Winnipeg. We gather together all kinds of local family events and activities each week, and add useful information about classes, family-focused businesses, book and product reviews, recipes, crafts, school and camp guides and more.

Our event calendar is available 24/7, so anytime you think, "What should we do today?", we want it to be your go-to resource. Know of an upcoming event I've missed? Events can be submitted HERE or via email at carmenk@macaronikid.com
Please always remember to tell businesses/event hosts that you heard about their event on Macaroni Kid! Your readership and support help us to bring you this free newsletter and website.